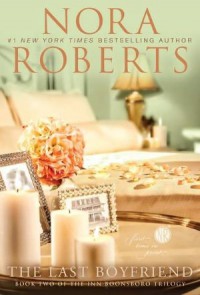 originally posted on my blog: http://newborrowedused.blogspot.com/2012/06/book-review-last-boyfriend.html
My Thoughts: This book is one I think of as a sweet straight river romance. Avery has been in love with Owen since they were 5 years old. Owen played along and even got her a ring from a gumball machine.
Fast forward many years and we have the current story. This HEA just seemed to go forward at a nice steady pace. There was never any doubts how it was going to end. There were a few pages of mommy drama that caused a slight bend and then a few more of guy drama that caused a bend in the other direction but overall it ran straight.
I love Owen and his lists and Avery and her ever changing hair colors. They just worked.
What I was most interested in (as with the first book) was the ghost that is in residence at the Inn. I more looking forward to her story coming to a conclusion than I am Ryder and Hope. We found out who the ghost was and that she is an ancestor of Hope's.
All this is leading to what should be a nice mix of the two stories and the conclusion of this trilogy.